Private tutors in Irvine offering tuition - United States
Find Private Tutors In Irvine
Our directory lists many tutors offering a wide variety of subjects. Simply search in your local area for a private tuition provider, and start your tutoring experience.
Advantages of The Tutors Directory?
There are so many websites where you can find tutors online, but the advantage to choose a tutor from The Tutors Directory is that all the tutors listed below have a detailed profile page with content written by them. Our mechanism to list a tutor on our website is very strict, the information provided on profile shows detailed information, like references, CRB checks, and student reviews.
Start your search for a private tutor at the Tutors Directory
Search for a tutor within your local area by subject and level. Once registered as a student, you can make contact.
Do you offer private tuition in Irvine?
Advertise on The Tutors Directory as a private tutor, tuition agency or tuition center.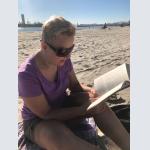 Tatiana Zakharova
Tutor in Long Beach
Online tutor
I provide a variety of activities for my lessons so you will never get bored. For example, I will use games, interactive conversational lessons, fun w...