Private tutors in Pembroke offering tuition - United Kingdom
Private tutors locally in Pembroke
Simply search, make contact, share contact details and negotiate time, place, cost etc direct with tuition provider in Pembroke. We do not charge any hourly commission fees.
Benefits of The Tutors Directory?
There are so many websites where you can find tutors online, but the advantage to choose a tutor from The Tutors Directory is that all the tutors listed below have a detailed profile page with content written by them. Our mechanism to list a tutor on our website is very strict, the information provided on profile shows detailed information, like references, CRB checks, and student reviews.
Use The Tutors Directory to search for a tuition provider
We have a very simple and easy way to help you find the right tutor. First of all you need to register on our website then you can use the search facility to find tutors by location, subjects and levels and other criterias. Make contact witha tutor of your choice.
Are you a tutor in Pembroke?
Advertise on The Tutors Directory as a private tutor, tuition agency or tuition center.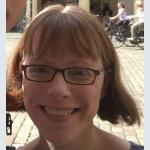 Sharon Price
Tutor in Haverfordwest
Gold tutor
I am a patient, encouraging, enthusiastic, friendly and dedicated teacher. Qualifications: I gained a high 2:1 BA Honours degree in German with French...